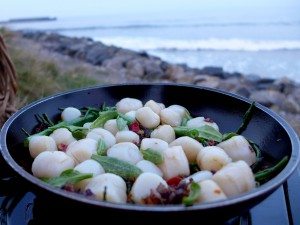 Who cares that it's only 1ºC? Not us crazy forager-types! Undeterred by the wintery weather, myself and Matt @edenwildfood went out for a day of seashore exploration and cook-up on the North Yorkshire coast…
The sea keeps coastal temperatures much more stable during winter, so even if there isn't much around to forage inland, you might be lucky on the seashore. On the cliff-top, the alexanders were already in leaf – I'll pick some of the more slender stems to candy in the spring. We also found hogweed already flowering. Along the paths and into the dunes we came across sea beet, buck's-horn plantain, wild carrot, common scurvy-grass, sea radish, sea mayweed, coltsfoot, mallow… and even a couple of 'slender blewits' as I call them, Clitocybe/Lepista sordida to add some purple to our basket!
We sautéed up some scallops, samphire and scarlet elf cups from another foray with pine nuts and sea beet.With dusk descending, and a cheeky shot of sloe vodka to warm you up, all-in-all a lovely foraging foodie day out by the sea.
Matt and I'll be jointly hosting an intensive foraging experience in the New Forest at the end of September which will include a coastal foray on day two… watch this space!